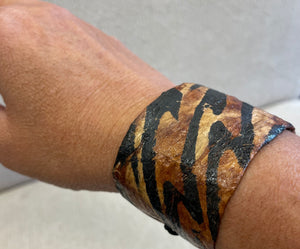 Ka Lua Pele Kapa Cuff
6.5" x 1.75"
Ka Lua Pele means lava in 'ōlelo Hawaii.  The reds, yellows, browns, and blacks represent the flowing pahoihoi lava, or the bubbling a'a lava.  Wear this print in honor of the Goddess Pele.
Dominant Dye:  Mahogany Bark
I enjoy using this very pa'a and practical dye.  Although Mahogany is invasive here in Hawai'i, as the trees are removed, we can still make use of the resources that it provides, like its bark. 
Pūkoʻa Studios Product Mana'o:
Metals are gold or silver plated brass or stainless steel unless otherwise noted.
 Kapa is a sustainable textile made from Native Hawaiian and other natural materials. Taking care of it will ensure longevity, but with substantial wear these pieces will begin to fade, degrade and can eventually be composted.
All products sold by Pūkoʻa Studios are one of a kind.
Kapa making is an intensive native process done entirely by hand.  Each piece is handcrafted starting in the garden to hand cutting and assembling.  While pieces may share similarities, no two are identical. If you place an order for an item that has multiple variations pictured, you will receive one of the pictured variations. 

All sales final, exchanges available for damaged or faulty items. No guarantee that item received will share all characteristics of original item.