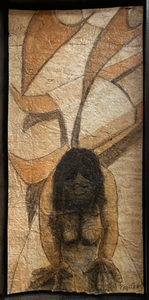 This piece is part of a group of 3 created as a study for "(R)Evolutions"  It shows Eddie Aikau, the famed waterman and Hawaiian Hero, on his surfboard, paddling away from the Hokule'a in search of help.  he was never seen again.
Hand Painted Kapa with All Natural Dyes
Approximately 5" x 11", displayed in glass-less 12" x 6" Bamboo shadow box
Kapa is first and foremost a sustainable textile made from natural materials and colored with natural dyes. Taking care of it will ensure longevity, but with time and exposure to light the colors will eventually begin to fade.