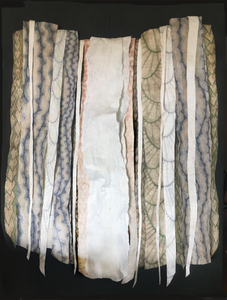 "The Living Waterfall"
Kapa dyed with Ma'o, 'uki'uki, Mahogany, Butterfly Pea, and minimal synthetic dyes.
This was a commission piece for the Waimanalo Health Center, and represents the water that is caught in the clouds, and cascades down to the earth, giving life to all things.  Each print represents a different type of water movement, cascading, trickling, flowing, and gushing.
This design is available to order in custom sizes, colors, and prints.